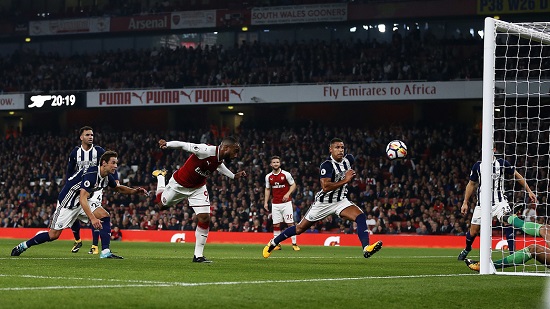 Alexandre Lacazette fell short of his first Premier League hat-trick only in his fourth game for Arsenal, but not many will doubt that it's just a matter of time he gets it. The club record signing scored a double either side of the break to move Arsenal to seventh in the league after six matches.
But that's just half the story. West Brom might argue the game could have turned out differently as they were denied a blatant penalty by referee Bobby Madley.
It happened halfway through the first half when Jay Rodriguez found himself on the receiving end of an intelligent Gareth Barry pass with the forward penetrating into the penalty box only to be swiped off his feet by sliding Shkodran Mustafi.
Rodriguez immediately stood back up and crossed to Jake Livermore who, in reality, is probably writing 'I should've scored' a thousand times for homework. Madley remained silent. The Gunners did too.
Then, two quarters into the game, Alexis Sanchez linked up with Lacazette, albeit indirectly, when he took a free-kick from the edge of the box. Diving Ben Fosters deflected the ball into the post, but could only watch as Lacazette's rebound header rolled into goal.
Perhaps West Brom felt they should be in front instead because they launched forward in response, and Rodriguez came very close, again. Receiving a pin-point cross from the left, he headed past Peter Cech, but the ball was cleared off the line by Nacho Monreal.
As the game resumed, Granit Xhaka, Aaron Ramsey and Mohamed Elneny slowly but surely claimed the middle of the park. Elneny in particular impressed with constant movement on the pitch, and soon the Egyptian found his way into the box and passed to Lacazette – the striker's shot deflected by Kierran Gibbs.
Pulis looked on as his midfield continued to chase shadows. His attempt to change things: a double substitution. Arsenal, however, had grown too comfortable on the ball by then, getting closer and closer to West Brom's box.
On one such occasion, Allan Nyom used slightly more force than necessary on Ramsey inside the box and referee Madley pointed to the spot. Pulis was shaking his head.
With Lacazette being one of Europe's top penalty converters last term, it came as little surprise that he was behind the ball. The striker sent it into the low right corner and beyond the reach of Fosters, 2-0.
Lacazette then had one more chance for a hat-trick before Wenger replaced him with Olivier Giroud, with Ozil also replacing Sanchez.
But that was it. West Brom would be feeling hard done by as the game might have turned out differently with the penalty claim going their way. But few would argue that this was a well-deserved victory for the Gunners. And even fewer observers would remain untouched by Alexandre Lacazette's early Premier League exploits – three goals in four matches.
*The image in this post courtesy of arsenal.com website.