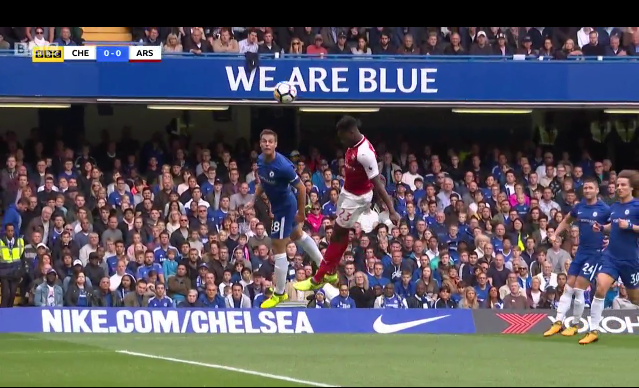 Arsenal battled Chelsea to a draw in an entertaining cat-and-mouse showing at Stamford Bridge which saw the hosts finish with ten men.
Brazilian David Luiz received late marching orders for a rash challenge on Sead Kolasinac to make it Chelsea's third successive game to finish with reduced numbers against the Gunners.
The match saw the return of most of the regular first eleven, apart from Mesult Ozil who was ruled out with a late muscle, while Alexis Sanchez started on the bench.
That was soon left behind as both teams started with intensity rivalling their last official encounter from May.
Spurred by the home crowd, Chelsea came up with something first. Cesc Fabregas lobbed the ball to Pedro releasing him for one-on-one, but the Spaniard fell short against Cech.
Then, in the 40th minute, Arsenal received arguably their best chance of the game when Aaron Ramsey slalomed his way into the penalty box and whipped a shot past Thibaut Courtois; The ball hit the post and fell to Alexandre Lacazette, but his attempt flew wide of goal in front of the disbelieving looks of the Arsenal bench.
After the break, Chelsea launched forward with regained enthusiasm. But the Gunners' mifield duo of Granit Xhaka and Aaron Ramsey seemed to have done their homework from the defeat to Liverpool from several weeks ago as control of the centre of the park remained steady.
Two thirds of the game had passed before both dug-outs pulled their aces out: Wenger by bringing in Sanchez, while Conte – Hazard.
In the 75th minute, Arsenal reignited memories from the May FA Cup final when Shkodran Mustafi headed the ball in after a cross, only for the linesman to flag it offside.
Chelsea's piled on pressure in the dying stages with Hazard coming close on a couple of occasions. But, in the 87th minute, Chelsea's momentum was cut short by a Luiz red card for a brash chop on Sead Kolasinac.
As the final whistle blew, Wenger could clearly feel happier. His team's performance showed none of the faults that caused them to concede four at Anfield. And even though they didn't score, they also prevented Chelsea from scoring at Stamford Bridge for the first time under Conte. And that is something to build upon.